Find savings on all of your favorite products in one place! I update this page regularly, so be sure to check back!
*Affiliate links may be present on this page. Please see the disclosure for details.
Would your students enjoy creating digital products?

Projects are an amazing way for students to both dig into what they're learning and to share what they've learned.
Some kids love hands-on projects (which we use often), but a lot of kids also love making digital projects.
This is the tricky part for many of us: we want to allow our kids to work in ways that they enjoy, and we want to give them the resources that they need.
But how do you do that when you don't know how to use them yourself?
This is where Techie Homeschool Mom's Guide to Digital Projects can help – and it's on sale for $10 off through April 25!
This guide includes step-by-step video tutorials for creating projects that fit with any lesson plan. Your family will learn to create
… Illustrated Quote Graphics
… Online Crossword Puzzles and Word Games
… Vocabulary Word Clouds
… Interactive TimeLines
… Quiz Game Apps
… Virtual Newspapers
… Time Travel Journals
… Digital Museum Kiosks
Plus, you'll discover more techie online apps for creating student projects!
Teach Them Diligently Convention – Mobile, Myrtle Beach and Columbus, OH!

If you're planning to go to a homeschool convention this year, Teach Them Diligently is a great choice! There are three more conventions left to attend.
They're going to be amazing!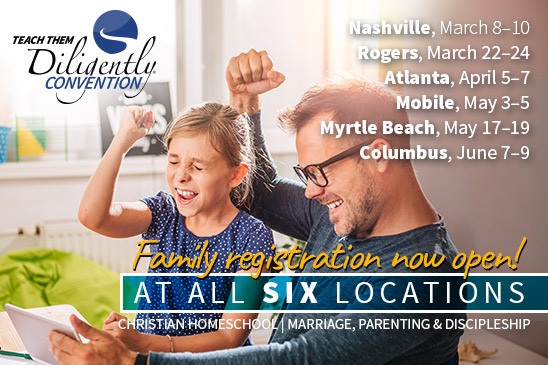 Jim Hodges Audio Books
Jim is always adding amazing titles to his collection, and through his Download of the Month Club, you can get a title of your choice every month for only $6.99! This is a huge savings on audio books that can grow with your children.
Ultimate Bundles
Ultimate Bundles has some amazing packages to help you with everything from working at home and homemaking to essential oils and healthy living. Here are some of my favorites!
Work at Home Super Bundle – everything you need to successfully work at home! Whether you want to run your own product-based or online business, be a virtual assistant, or something else, you'll find fantastic resources designed to help you. Available through May 31, 2018!
Are you interested in learning about essential oils and herbal remedies, but don't know where to start? The Herbs and Essential Oils Super Bundle has over $800 worth of resources to help you! It's available through May 31, 2018.

Parenting Super Bundle – 80 resources handpicked by homeschool moms to help you tackle everything you need to do! This bundle is available through July 31, 2018.
Homeschool Mom Fitness
With everything we have on our plates, fitness often falls to the background. In order to take care of our families though, we have to also take care of ourselves!
Homeschool Mom Fitness is a program developed by a homeschool mom, Heather Bowen, and her husband Scott. Scott is a certified personal trainer and brings his skills to the table in this program! It's designed to be effective, but also incredibly flexible. You can start it at any level and easily fit it into your schedule. Your kids can also join in!
For a limited time, Homeschool Mom Fitness is 50% off – only $14.97! This gives you lifetime access to the program, planner, videos, and private Facebook group. I've seen some great results from following this program!